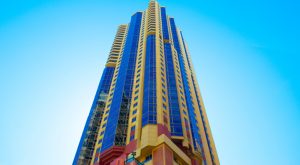 Unless you've completely cut the cord, there's a good chance you've seen quite a few commercials with the "Trivago Guy" — a disheveled everyman with gray hair and a wry sense of humor. For the most part, that marketing strategy has worked. And here we are today, with investors on the cusp of buying a piece of Trivago's upcoming initial public offering.
The origins of the company, though, may be a surprise to many. Trivago got its start in Germany back in 2004 as a hotel search engine.
But about eight years later, Expedia Inc (NASDAQ:EXPE) bought a 62% stake in the company for $531 million. Not too shabby for EXPE.
Why the Trivago IPO Matters
The fact is, Trivago is now one of the dominant online travel operators in the world. For the 12 months ended Sept. 30, the company logged 1.4 billion visits to its websites and apps and these translated into a hefty 487 million qualified referrals.
The company not only has a database of 1.3 million hotels across 190 countries, but there is also a sophisticated machine learning/analytics system. This next-generation technology has allowed the company to improve personalization.
And yes, another attraction for the Trivago IPO is the growth ramp. For the first nine months of this year, revenues jumped 49% to 585 million euros and the adjusted Ebitda came to 16.3 million euros, up from a loss of 13.4 million euros in the same period a year ago.
The growth is likely to continue for some time. Despite being around for over two decades, there's still a secular shift toward digital platforms in online travel. Keep in mind that only about 33% of global hotel bookings are online, according to Phocuswright Data. But mobile is likely to accelerate the shift. According to Trivago's own estimates, the amount of mobile data traffic is forecast to grow at a torrid 53% compound annual growth rate from 2015 to 2020.
At the same time, consumers will certainly want the ability to select various options, such as to compare prices. Of course, this is the sweet spot for Trivago. Based on research from the Phocuswright Consumer Travel Report, travelers aged 18 to 34 are nearly twice as likely to use a metasearch service than those 35 and older.
Bottom Line on the Trivago IPO
Consider that EXPE is no stranger to spin-offs. In 2011, the company pulled off an offering of Tripadvisor Inc (NASDAQ:TRIP), which has snagged a gain of 72% (this is despite a big drop in 2017). Of course, this should provide some comfort for those taking a look at the Trivago IPO.
Although, the online travel space has had a mixed year so far. Even though Priceline Group Inc (NASDAQ:PCLN) is up about 17%, EXPE is off a percent and TRIP stock gave back a grueling 44%. But Trivago's IPO could spark renewed interest in Expedia. as the company maintains a majority interest.
As for the timing of the Trivago IPO, it is not clear. In light of the complexities of managing a foreign-based company, however, it seems reasonable that an offering will probably not happen until the first quarter of next year.
Yet the Trivago IPO is likely to be a large one, with the valuation at $5 billion, and there should be lots of interest from investors. After all, IPO activity for the year has been meager, so there will likely be pent-up demand for quality deals.
Regarding the Trivago IPO, the terms have not been set. But the company does plan to list on the Nasdaq Composite under the ticker "TRVG," and the lead underwriters include JPMorgan Chase & Co. (NYSE:JPM), Goldman Sachs Group Inc (NYSE:GS) and Morgan Stanley (NYSE:MS).